Florence Country Life customer reviews on horseback tours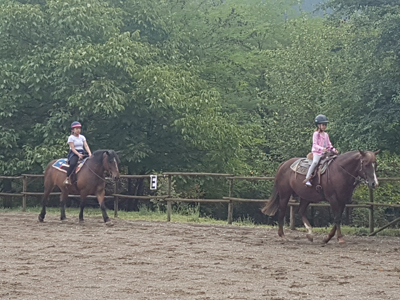 Highlight of our trip to Florence!
I am a very picky traveler from NYC. Also, I do not write reviews often. I feel compelled to write a review today because my daughter and I had the time of our lives thanks to Simona and her wonderful team! Florence Counrty life was highly recommended by the concierge of the Four Season Hotel in Florence. I am very happy I followed the recommendation. Simona picked us up from our hotel in the heart of Florence and drove us 30 min away (did not feel long as the scenery along the way is breath taking) to her beautiful horse property. My 9 year old daughter and I are not expert riders but we are comfortable on a horse. Simona's wonderful team tested out our ability prior to the ride and adjusted the ride accordingly. All of the staff are true horse lovers. This is not a tourist trap. This is a wonderful experience with true equestrians. The horses are beautiful and are well cared for. The trail ride included lots of intervals of trotting which was very fun! The views from the ride are something I will never forget. It's always been a dream of mine to horseback ride in Tuscany. I'm very happy I chose Florence County life to realize this dream. It could not have been better. On the drive I mentioned to Simona that one day I would love to see how the Tuscan wine is made. Well, on the way home Simona took my daughter and I to one of the most incredible Tuscan wineries and we were given a private tour into the wine cellars by the manager. I was blown away! What an added treat! Simona also wanted to take us to a local Tuscan spot for lunch but we ran out of time as we had other plans that day in Florence. We will definitely be back and next time we will book a longer Tuscany tour with Simona! I truly can't recommend this experience enough! If you are not an experienced rider and you do not have more than 3 or 4 hours to tour, do not hesitate to book this tour. If you are expert riders, this is also the tour for you! Absolutely the best way to spend half of day in the Florence area. This is an experience my daughter and I will never forget!

Christine and daughter from New York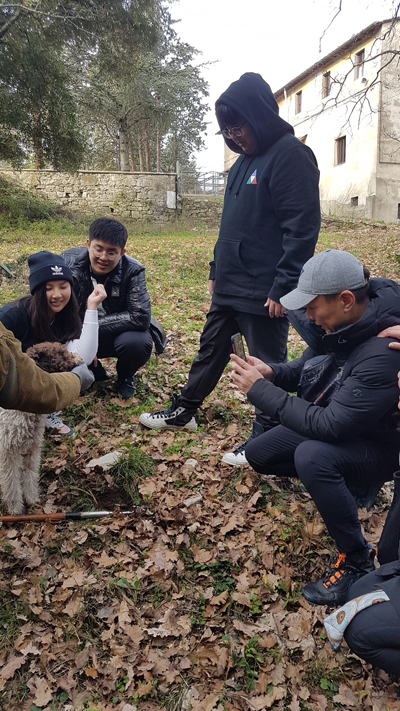 Truffle Hunt on the Florence hills
We had a wonderful first truffle hunting experience. Simona was very friendly, she contacted us promptly after the tour was confirmed. Fosco was very professional and good at what he does, guiding us through this experience. Asia, our tracking dog was very cute and playful, making the trip a lot of fun.
The gourmet Lunch experience after the hunt was very tasty, held in a typical luxury restaurant offering giant white truffles freshly sliced on the tagliatelle and more Tuscan dishes and wine delighted our senses. It was an unforgettable experience and we highly recommend it!

Lisa and family from Jakarta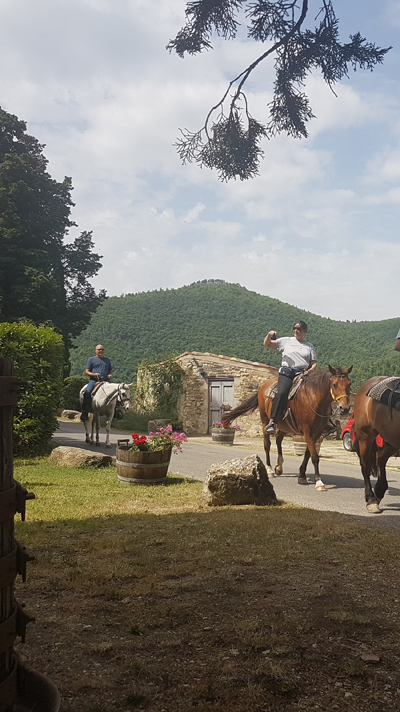 Spectacular ride!!
Simona and Marco are very accommodating. It really is all about you. Emailed Simona about 2 days before we arrived in Florence and she booked us for an early morning private ride (9 am) to a local castle, vineyards and countryside (you will have many options). Followed up our ride with a nice lunch at another small castle that has been transformed into olive oil production and we had a great meal and our host for the olive oil tasting was exceptional. It was a beautiful day!! Grazie Simona
Would so do this again, maybe a longer ride for sure, and if you are looking to book a great ride, fun day while visiting Florence, and you want to get out of the city I would strongly recommend Florence Country Life. They pick you up in town and bring you back at the end of the day, and the only thing you have to do is enjoy.

David&Debbie from Texas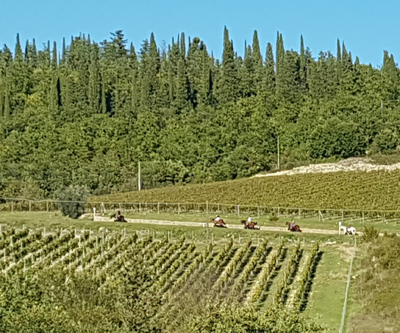 Different perspective of Tuscany.
Horseback ride and Wine Tasting with Lunch in a historic estate
Loved it. We had an amazing day with Simona, Marco, Stefano and Monica! We highly recommend this tour!
We were a group of 4 adults; my mother, myself, my brother and girlfriend. My mother and brother had not ridden very much, his girlfriend and I have ridden before, but a while ago so we were not experts. Stefano made sure we were all comfortable with the planned pace.
The staff and guide matched us to a horse and gave us a chance to get used to them in the arena. We did a bit of a trial run as a group and then set off. The horses were not like some trail rides you go on where they just follow the horse in front and are like sad robots. The horses have personality and they like to have a bit of a trot or a canter if you want to. They are interested in their surroundings. But we were safe and if you want to just walk and take in the sights you can. Stefano was calm and friendly if we needed ay guidance and was attentive to make sure we all felt safe and enjoyed our ride.
We were guided through fields, vineyards, forests and across streams. The horses and the equipment were in great condition. The lunch was light; antipasto, breads, ravioli and then biscotti, each paired with a wine from the villa's winery. The meal is in the Tuscan-style kitchen of the villa. There was a wedding there today, so we were able to see it being prepared. It was beautiful and the wines were excellent. We were picked up easily and dropped off at the same place in clean and comfortable cars. Photos were taken and will be emailed to us as a momento!

Sara and friends from Australia
A surprise wedding proposal on horseback.
Simona and her crew were extremely responsive to all correspondence and helpful throughout the planning process. When we arrived, she was super understanding and attentive to our needs. She went above and beyond to accommodate my partner and I with arranging a photographers team and even helped coordinate our surprise wedding proposal. The views were incredible, the attention to detail was so perfect and we enjoyed every minute of the horseback riding and breathtaking wine tour. Thank you for everything.

Lauren A. Bennet from Texas.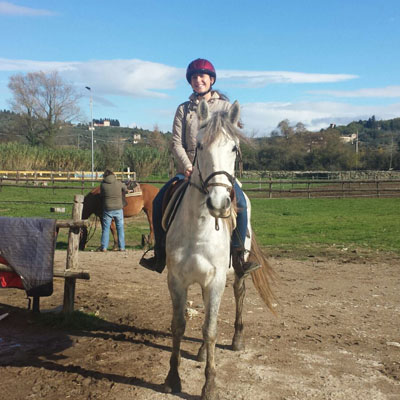 The ride through Tuscany is amazing.
The sights are so beautiful that they don't seem real, and being on horseback makes the experience that much more memorable. The guides are awesome: Vieri and Galaad make you feel extremely safe and stay at a pace/level you're comfortable with. Simona is also wonderfully helpful, as she will give advice on what to see back in the city. Overall, one of my favorite experiences & (experienced rider or not)
something that should not be missed!!

Best,
Devon from New England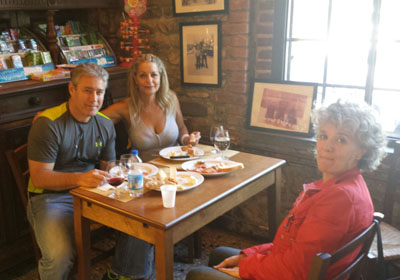 Bueno Serra Simona and Marco,
Scott and I had a fabulous time yesterday! Horseback riding is a wonderful way to see Tuscano!
Thank you once again for the amazing experience, delicious lunch and the photos!
We will meet up with our friends tomorrow and will highly recommend that they contact you to reserve a day on your excursion the 1st wk of October.
Grazie!
Scott and Rebecca from Canada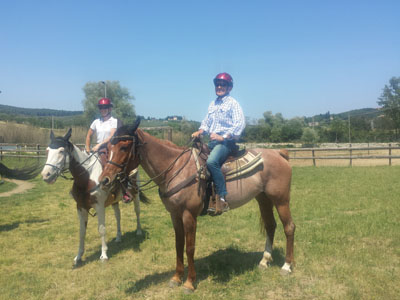 This was a fantastic ride we would highly recommend to anyone looking to experience the wonderful countryside on safe reliable horses. We have our own horses so wanted to be able to ride and not just plod along. Simona Todeschini was friendly and welcoming ..

giving us memories to last forever
Tracy & Peter, Brisbane/Australia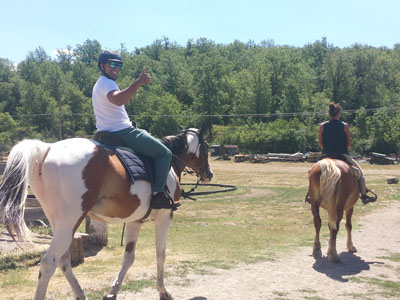 Florence Country Life has been one of the best finds during my visit to Florence.
I have always had passion for horseback riding. Tell you the truth, there's no better way to experience Tuscany than on the back of a horse through the best of what this land offers. Tuscany is incredible. I would spend a week just riding in Tuscany if I had the time. The riding stable is perfect for anyone who has experience and everyone who has never been on a horse. Simona and her team are the best to ensure your experience is a top tier tour. They are able to customize a riding tour to your needs, and I couldn't be happier with mine. I knew right away that I've selected a wonderful team to enjoy Tuscany hills. I'm grateful for them and their keen on ensuring my riding experinece was wonderful. As an experience rider, I loved and enjoyed my time touring vineyards and olive farms as we rode through the hills of Tuscany. If you need a get away from Florence, I highly recommend this place for you.
You must explore this beautiful landscape and enjoy the tranquility of nature.

Khaled from Dubai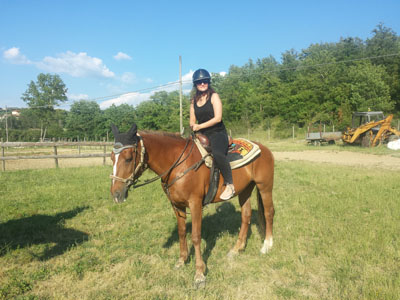 I took the recommendation of the hotel in Florence to schedule a horse ride with Simona and her team. Wonderful host Simona could not have been easier to deal with or more accommodating. She picked me at the hotel and we had been driving through a countryside splendid with olive yards. Absolutely great ride through the amazing landscape. Both of my guides were a pleasure and well skilled. On the way back, I was taken to one of the oldest and famous olive producer where I couldn't resist but buy one bottle of spicy olive oil. Apart from English, Simona also speaks French and German and shared her valuable knowledge of the region as well as some part of Europe worth to visit next time. I was made to feel very welcome and recommend anyone visiting Florence soon to opt for the combined tour with Simona and her team.

Mrs Shaba, from Geneva