About Florence Country Life
Florence Country Life is an expert tour consultant specializing in horseback riding tours in Tuscany. We offer horseback adventures for all levels of expertise, even for complete novices and children.
We also offer a select number of small-group, exclusive experiences for discerning visitors in and around Florence.
We are passionate riders. For over thirty years we have been horseback riding throughout Tuscany, so we know trails for horseback riding ranging from one hour to several days' duration.
By first-person experience we also know the best restaurants, taverns, shops and farms in the Florentine countryside, and we routinely include them in our horseback tours so our guests can enjoy the Tuscan countryside at its best.

Florence Country Life will pick you up from central Florence and take you to the countryside for an exciting horseback ride and a taste of typical Tuscan dishes and great Chianti wines!

Not just for riders
Do you fancy a countryside tour around Florence or an authentic Tuscan food-and-wine tasting experience, but aren't keen on the horse-riding part? Just drop us a line or give us a call, and we'll be happy to customize one of our guided programs to meet your requirements.
Simona Todeschini
Simona holds a degree in foreign languages, and has traveled extensively for tourism and business. Long before founding Florence Country Life, she enjoyed leading parties of tourists around the world and visit with them wild and unexplored sites. At the same time, she gained an extensive knowledge of tours take her passions to the next level and start offering horseback riding tours in the beautiful Tuscan hills near Florence.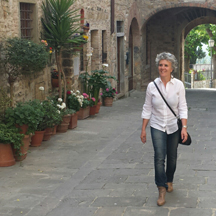 Marco Gabbrielli
A rider since his earliest years, Marco is one of the greatest experts of horses and horseback riding trails in Tuscany, especially in the countryside near Florence. He is also a connoisseur of the culinary excellences available over a large area to the south of Florence. In fact, his selection of places to enjoy is a compendium of the quintessential Florentine lifestyle. Fine wines and the tastiest Tuscan food are waiting for Marco to accompany you on a journey of discovery off the beaten track!